Client:
Quality Council of India & (Government e-Market Place)
Objective:
Objective of this platform is provide a Video calling based assessment platform for remote assessment.This is implemented using WebRTC API's for Video Calling and video recording features.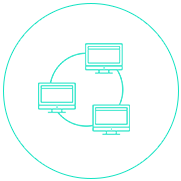 BUSINESS NEED
GeM is a Government e-Market place where common user goods and services can be procured. GeM is dynamic, self-sustaining and user friendly portal for making procurement by Government officers.
GeM needed a system using which Vendors and Resellers who empanel on the GeM platform can be verified for the products for which they have applied as OEM or Reseller.
To bring in cost effectiveness and efficiency in the process, it was proposed to conduct assessment using Video based conference call instead of assessor visiting the facility for assessment. In this system, Assessor reviews the facility using a Video conference call wherein the Vendor/Reseller fills the assessment form in supervision of Assessor. Pictorial and Video evidence of the assessment are stored along with.
Solution
A suite of web and mobile application is created to digitise the process of Video based assessment and generate certificate and reports.
The solution provides implementation of WebRTC API's which facilitates in Video Calling and video recording features as required in this application.
Features of Mobile App:
Video Assessment Mobile App is a free app that allows conducting digital interview and assessment at your convenience. All you need is a camera and good internet access.
The app's features include:
Live-Video Screening
Capture response to a question with live video
Multiple image uploading
Geo-tagged images
Best Android screen sharing quality and screen share directly from your Android device.
Features of Web Application:
Video Calling Module
Video Recording Module
Facility to create projects
Facility to create users
Create questionnaire forms
Mapping of questionnaire forms with projects
Facility to review synced data